Renewal in the Caribbean
February 4-15, 2023
Ft. Lauderdale to Ft. Lauderdale
Join us on our first ever wellness cruise exclusively for former caregivers because it's time that someone took care of YOU. What do you do when caregiving ends? What do you do when your travel partner is no longer there? Begin to rebuild your identity, your life, and your travel plans with us as we take you on a renewal cruise to some of the most beautiful islands in the Caribbean.
This voyage is meant to rejuvenate former caregivers, help them embrace the change in their life, and inspire them to do what we all love most: travel. Our concierge travel services ensure that you are getting the vacation that you deserve, with special onboard events such as spa days and wine tastings plus workshops exclusively for our group where individuals can connect with others who have shared their experiences and begin to heal from the stress and exhaustion they have faced for so long. Transportation to and from airports, airfare, and pre and post cruise hotel stays can be arranged so all you need to worry about is how many swimsuits to pack for the incredible beach days that you'll have.
TO LEARN MORE CALL 888-826-6836 OR CLICK HERE

AWAKEN YOUR INNER ADVENTURER on this voyage that explores islands with distinct European influences. Here's where we're taking you:
St. Maarten
This island blends two European cultures with the vibrant flair of the Caribbean. Here you'll enjoy French sophistication with some Dutch fun. Sip rosé in a quaint bistro or indulge in a flaky pain au chocolat at a patisserie. Or visit the pristine Dutch beaches for a party with everyone's favorite Caribbean libation: rum punch.
St. Lucia
You'll be surrounded by excitement the moment you enter the harbor which is actually the crater of an extinct volcano. Choose your perfect adventure, whether it's riding horses in the surf or hiking to a waterfall for a refreshing swim or just losing yourself in a book under a palm tree on the beach of your dreams. Whatever activity you choose you'll have dramatic views of a tropical paradise.
Barbados
Step back in history on this British island by exploring colorful Bridgetown, a UNESCO city that boasts architecture dating back to the 17th century. Be prepared to take a lot of photos on this small but charming island that's known for it's colonial architecture and equally thrilling wildlife; excursions can include a visit to a monkey sanctuary or swimming with turtles!
Martinique
Find a little bit of New Orleans on this French-speaking island where rum cocktails and a good time are waiting for you. Have a cocktail on the beach listening to local musicians, stroll through the historic Fort-de-France, or visit a rum distillery to learn how the Caribbean's favorite spirit is made.
St. Kitts
Golden sand beaches surrounded by turquoise waters and lush tropical landscapes await you on St. Kitts. Enjoy Spanish, French, and English influences on the island, especially in the cuisine, and no matter where you're eating here it's guaranteed to be a memorable meal. Swimming with dolphins can also be arranged here for an extra special day.
St. Thomas & St. John
Treat yourself to a day of duty-free shopping in the charming port town of Charlotte Amalie where hundreds of shops feature anything you've ever wanted, from a new pair of sandals to show off by the pool to stunning jewelry for a truly remarkable souvenir. Or venture to the small island of St. John to visit the picture-perfect white sand beaches with the bluest water you've ever seen.
Half Moon Cay, Bahamas
Enjoy a private island experience and a day of fun in the sun at Half Moon Cay. Walk down the white sand beaches, enjoy tropical beverages, and take part in the ultimate beach party with all the new friends you've made on this trip.
TO LEARN MORE CALL 888-826-6836 OR CLICK HERE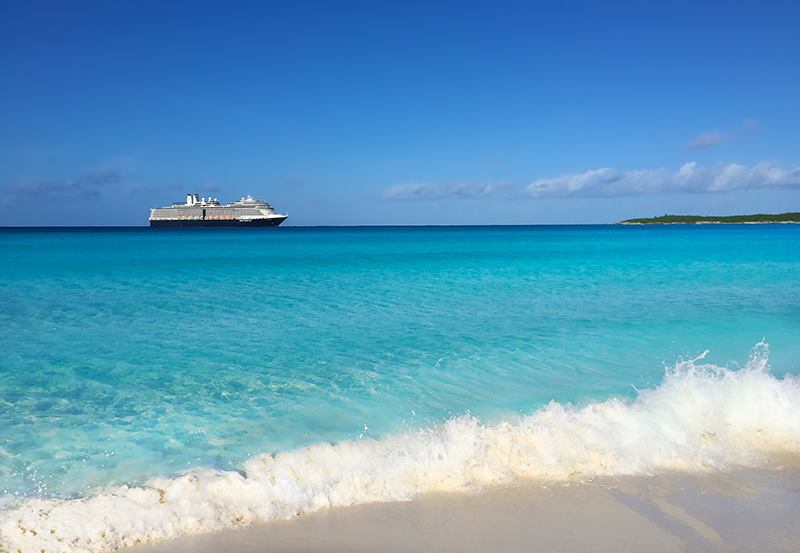 Pinnacle Class Voyage on the MS Rotterdam
Enjoy all the amenities of the newest ship in Holland America's fleet, the MS Rotterdam, such as multiple pools, a casino, and a collection of live music experiences to keep you entertained long into the night. Experience global cuisines at a variety of restaurants that will serve you some of the most indulgent meals of your life. Visit the Greenhouse Spa for a soak in the hydrotherapy pool or pamper yourself with a 75 minute massage because you've earned it.
TO LEARN MORE CALL 888-826-6836 OR CLICK HERE
FOR MORE INFORMATION ABOUT THIS OR OTHER ELITE VACATIONS CALL 888-826-6836 OR CLICK HERE