Canada and East Coast Independence Celebration
Caregiver Respite / Dementia Friendly Cruise
June 29 – July 6, 2020
4th of July Spectacular on the Queen Mary 2 - one of the Cunard Lines finest ships!
JUNE 29- July 6, 2020 Round-trip from New York, New York

---
Join us as we sail on this amazing Caregiver Retreat and Symposium to Canada, Maine and experience a Spectacular overnight in Boston on JULY 4th 2020.
Caregiver RESPITE, RETREAT, SPA, and Educational forum, focused on making us not only a better caregiver... BUT a healthier, happier YOU.
A round trip adventure from New York exploring the east coast and Canada on Cunard's Queen Mary 2. Celebrate Independence in more ways than one! As you enjoy the fireworks illuminating the sky, representing America's independence, you can relax with your loved and just enjoy the moment. Freedom surrounds you at all times on this caregiver respite, supported cruise!
---
Celebrate Independence!
Not only will we be celebrating 4th of July on this amazing cruise, but every Elite cruise celebrates the caregiver and their need for independence, or "ME" time! We understand the importance of rejuvenation! Allow our staff to provide 2 hours of daily caregiver respite assuring your loved ones are surrounded with interactive activities to keep their minds and bodies engaged!
We offer the following on every Elite cruise so you can bring your loved ones and enjoy life to the fullest!
---
Queen Mary 2 offers vacation experiences to be enjoyed by all ages!

Bring your extended family and create life long memories to hold in your heart forever.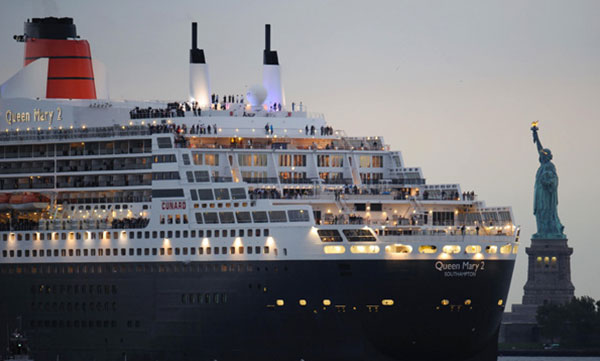 The luxury is in the details, and Cunard has crafted every detail to perfection on Queen Mary 2. With some of the finest chefs at sea, every on board dining location is filled to the brim with excellent cuisine. The cruise experience is complete with 3 formal nights, and dancing.
There is also a modern gym, sports court and swimming pools for those who want to stay active while still enjoying the opulence of cruising.For those who want to relax, the huge Canyon Ranch Spa Club awaits with signature massages, treatments and facials.
The library features over 8,000 books to keep every passenger's inner book lover satisfied. The Royal Court Theater holds lavish productions every night, complete with a unique digital backdrop that makes every performance memorable.
For those who wish to try their luck, the casino holds plenty of gaming tables, slot machines and video poker.There are even complimentary gaming lessons for those who are new to casino games.
The kids won't be left out with their own dedicated, fully staffed areas for playing and exploring.
Queen Mary 2 is the only liner to regularly carry animals in their dedicated kennel at sea, so you can bring along your furry companions.
There's even a full scale planetarium to take a virtual ride into outer space.
All of these unique touches make Queen Mary 2 one of the most luxurious experiences at sea.
EVERYONE GETS TO ENJOY LIFE TOGETHER!
---
We strive to make traveling easy, comfortable and safe!
Pre-cruise group hotel with Cruise Support Team staff to meet and greet you upon arrival and manage transportation to the cruise departure port. (hotel at additional cost)
Accessible accommodations and mobility assistance. (ALL cruise cabins can be retro-fitted with elevated toilet seats, shower chairs and detachable shower heads)
Arrangements made for assistive devices as requested on a per item rental basis, delivered to and picked up from the ship; scooters, power wheelchairs, power recliners, etc.
All cabins on the ship can be retrofitted to be accessible. Elevated toilet seats, shower chairs, detachable shower-heads can be added to any cabin at NO additional cost.
---
---