Finding A New You
February 24 to March 6, 2024
Round trip from Ft. Lauderdale, FL
Rediscover yourself in the Caribbean on this incredible retreat for those who have completed their caregiving journeys. We're inviting all former caregivers on an adventure that takes us to some of the lesser known corners of the Eastern Caribbean including Antigua, Dominica, and Martinique and in these stunning spots you'll have a chance to redefine who you are, make new friends who can relate to what you've gone through, and travel with a concierge supported group so all you'll need to worry about is which swimsuit to pack.

WHERE WE'RE TAKING YOU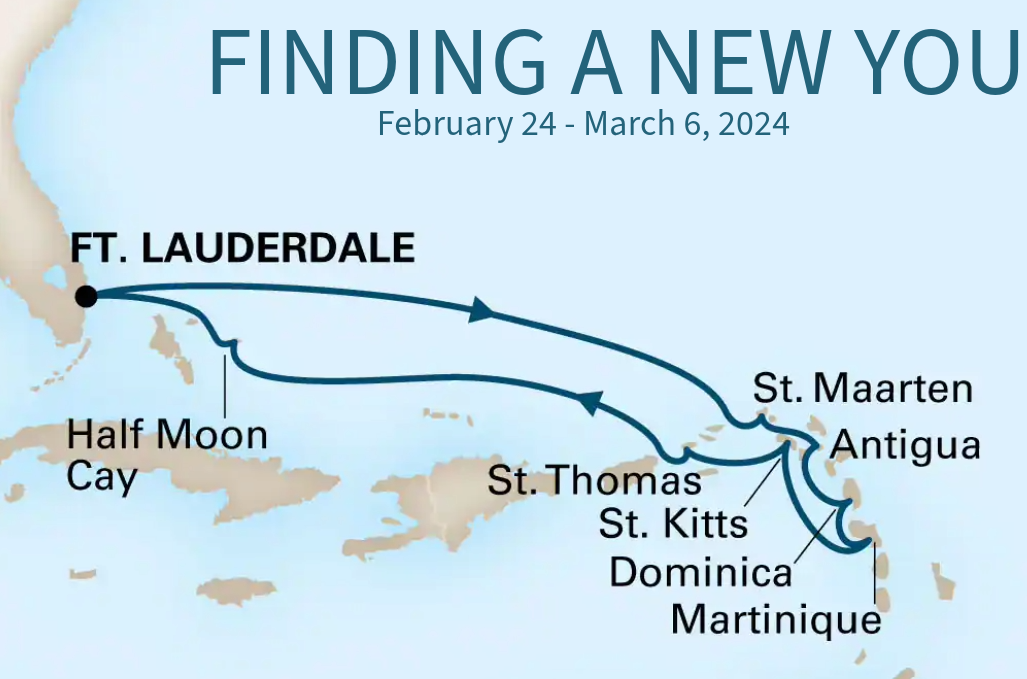 Day 1: We'll wave goodbye to Florida with a group toast to new adventures and new friends. Our Elite staff will make sure you are settled in your cabin and have all the information you need for the vacation of a lifetime before we get to know each other and have a relaxing dinner together.
Day 2-3: These days at sea are devoted to relaxation and rediscovery. Treat yourself to a dip in the hydrotherapy pool or a massage at the Greenhouse Spa. Indulge in a wine tasting with some new friends. Or take part in optional workshops with guest speakers that can help you begin to heal from the trauma of losing a loved one and can help you navigate redefining who you are and what your life looks like.
Day 4: Our exploration of the Caribbean begins on the island of St Maarten/Martin, an island famous for one side being Dutch while the other is French. In this culinary paradise you can indulge in flaky pastries from these two cultures known for their sweets before exploring the streets lined with candy colored buildings and enjoy some tax-free shopping.
Day 5: Antigua boats 365 white sand, palm tree lined beaches and we're taking you to the prettiest one! Enjoy a day in the sun and maybe even try one of the famous Antigua Black Pineapples, one of the world's rarest and sweetest pineapple varieties.
Day 6: Get in touch with nature on the unspoiled island of Dominica. Spend a day in the rain forest or watching for whales, but no matter how you choose to spend your time you're going to leave with some spectacular photos.
Day 7:
We'll spend a full day on Martinique and need every single moment because there's so much to do here! Have an active day on a dolphin adventure or slow down by sipping the island's ti punch at a beach bar, this charming Caribbean destination offers something for every type of traveler.
Day 8:
St. Kitt's is an island that is all about adventure. You can hike a volcano, explore the island on ATVs, snorkel in the bright blue waters, or fly through the jungle on ziplines. Or save the excitement for another day and relax on one of the golden sand beaches.
Day 9:
The capital of St. Thomas, Charlotte Amalie, feels like stepping back in time to 1691. Explore the beautifully preserved city before quenching your thirst with some local rums, or travel up above the city for some of the most dramatic views in the Caribbean.
Day 10:
This day at sea will be spent enjoying all the amenities our beautiful ship, the Eurodam, has to offer or participating in additional workshops with our guest speakers. Partake in a 1:1 session with our keynote speaker, author Sally Moore, or enjoy a group activity like a mixology class!
Day 11:
Our last day will be spent on a private island, Half Moon Cay. Spend one last day enjoying the warm waters of the Caribbean before waking up back in Ft Lauderdale for your journey back home.

We offer the following on each Elite-supported, concierge accompanied cruise so you can enjoy a stress-free vacation:
All-inclusive onboard package includes beverages, premium dining, WiFi

$100 credit for excursions

Activities exclusively for our group on and off ship

Optional programs and workshops for cruise participants

Group dinners and events

Airport meet and greet

Luggage handling assistance

24/7 Elite staff assistance to help with all travel needs

Packing list recommendations personalized for your itinerary

Airfare booking assistance

Pre/Post cruise hotel booking assistance

Excursion recommendations and booking
*Pricing based on double occupancy. Single pricing available by request.
Call 888-826-6836 for your customized quote today!
Conferences & Support
Find a new you on this one-of-a-kind Caribbean cruise. Connect with other former caregivers on this voyage and find the support you need through workshops with guest speakers including author Sally Moore who, after being a caregiver for her mother and her husband, founded Perks N Moore, Inc. which provides resources, services, and support for caregivers and those who have completed their caregiving journey.
Travel in a supported, welcoming group environment with other individuals who have similar life experiences and discover a new circle of friends who also love to explore the world. Take this time to redefine yourself and kick off this new chapter of your life by island hopping the Eastern Caribbean!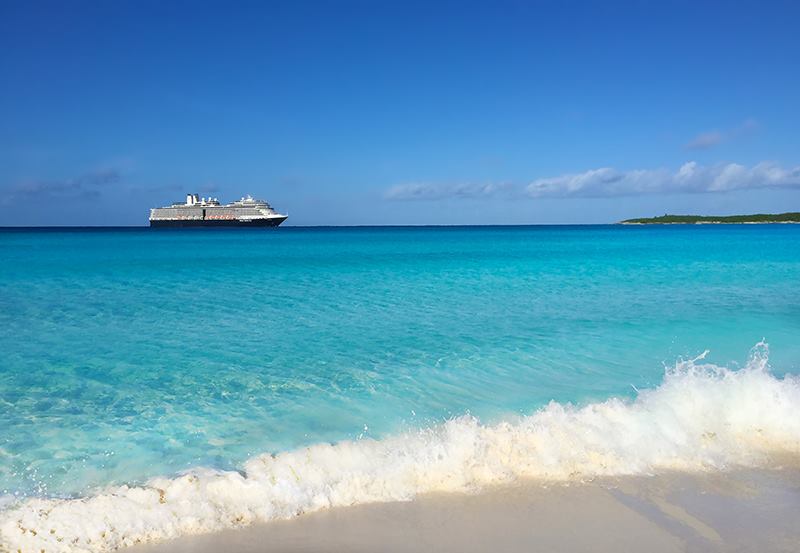 Welcome Aboard the M.S. Eurodam
This Signature Class ship features all the amenities and luxury one would expect when traveling Holland America Line but its smaller size allows us to explore islands that larger ships cannot get close to. Spend your time on board lounging by the Sea View Pool, dancing the night away at B.B. King's Blues Club, or being pampered at the Greenhouse Spa. Enjoy multiple dining venues or relax on your private balcony where room service will bring you anything you could want, including warm chocolate chip cookies as a bed time snack!