Alaskan Adventure
Caregiver Respite / Dementia-Friendly Cruise & Symposium
May 24-31, 2020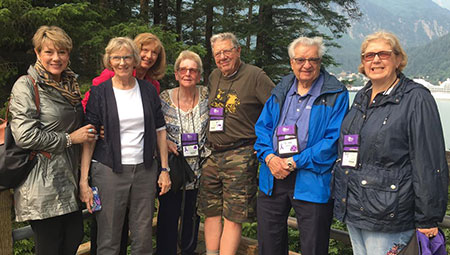 All aboard this TOP travel bucket list destination to Alaska! Caregiver Retreat/Dementia-Friendly Cruise & Symposium INSPIRES and EMPOWERS caregivers and family members!
Create a multi-generational adventure to Alaska on Holland America's MS Oosterdam. We connect families who may have special needs (mobility challenges, food and environmental allergies, etc.) with trained staff so all can enjoy with peace of mind. You, and your loved ones living with memory challenges, receive a specially designed, unforgettable retreat!
Living Every Day to Enjoy Life will include:

An opportunity for attendees to find inspiration aboard from stories about the journeys of global caregivers through Caregiver Circles.
Caregiver respite sessions are a time for the caregivers to relax and experience an adventure or simply take a nap.
Available RN private duty care one-on-one client support at a minimal hourly fee.
Accessible accommodations (no additional charge) and rent-able mobility devices.
Dementia/Alzheimer's interactive conference sessions intended to educate, inspire and create new ideas.
Opening night private party. Our first opportunity to meet and greet.
---
An opportunity to benefit from a wide range of programming created for the complex and stressful daily lives of caregivers and their family members. Discover your journey as a caregiver in a whole new way and return home with a RENEWED SPIRIT!
Featuring an immersive conference during the cruise and valuable support services at a ration of 1 professional to every 4 travelers. Offering exclusive heart-based sessions and strategy-focused workshops with DAILY caregiver respite!
Bring your loved one, and Let's Enjoy Life TOGETHER!
RN support 24/7, daily adult daycare sessions, accompanied excursion, group dinner seating, custom airport pick up and additional programs to create a SAFE and SECURE environment so that EVERYONE can enjoy the moment and caregivers can make life-long MEMORIES!
---
Holland America's MS Oosterdam is spacious, luxurious, family friendly!

Possessing one of the highest rates of space per person in the Holland America fleet, the Oosterdam boasts innovative, luxurious features. There are plenty of family-friendly activities, such as the Mainstage with live entertainment, America's Test Kitchen, the Lincoln Center Stage and BBC earth Experiences.

Check out Billboard Onboard! An exclusive interactive experience which will let you sing along to fifty years of chart-topping hits.

Drop the kids off at Club HAL, a fully supervised area with tons of games and enrichment activities, then head over to the Greenhouse Spa and Salon to enjoy a premium facial or massage treatment.

Gambling lovers will enjoy slots or blackjack at the casino, and music lovers will rejoice at B.B. King's Blues Club, which has an eight-piece band that presents the best of Memphis music.
EVERYONE GETS TO ENJOY LIFE TOGETHER!
---
This Alaskan retreat will consist of:
RNs available 24/7, and geriatric care professionals will lead a dedicated cruise support team from Elite Cruises And Vacations LLC. Staff ratio: 1 professional to 4 travelers

Senior-Friendly activities and social events specifically geared to our group

Daily music therapy and movement activities

Respite sessions for caregivers – daily adult daycare sessions – are included


Interactive conference topics created to "Enjoy Life"

"Living Well with Dementia"

Tips and Tricks for caregivers

Mobility safety… Live safe, Be safe… Enjoy

Capture Life's best and simplest memories with pictures

Overcome the obstacles and keep going


Daily agenda of activities to be incorporated with the daily activity schedule of Holland America Cruise Line

"Private Group Welcome" and "Meet and Greet the staff" party.

Group dinner seating available every evening

Optional group shore excursions in each port escorted by a staff member (shore excursions are at an additional cost)

Pre-cruise group hotel with Cruise Support Team staff to meet and greet you upon arrival and manage transportation to the cruise departure port (hotel at additional cost)

Accessible accommodations and mobility assistance. (ALL cruise cabins can be retro-fitted with elevated toilet seats, shower chairs, and detachable showerheads)

Custom airport pick-up with every family and accompanied escort to the hotel

Custom group transportation to the cruise port
Special diets make a splash on this cruise!!

Do you have special diet needs? NO WORRIES! Holland America now offers vegetarian, low sodium, vegan and gluten-free cruise cuisine during every meal!
---