Western Caribbean – Dementia Friendly Cruise & Symposium! Sponsored by:

| | |
| --- | --- |
| | Rebecca Rushing, BSN, RN has worked as a Registered Nurse in many areas of healthcare over the past 30 years. Currently, she is the Director of Client Services, at FirstLight Home Care in Cincinnati, Ohio. Rebecca has always had a passion for working with the elderly, especially those with dementia. She currently is a Positive Approach to Care Independent Trainer through the Teepa Snow program, as well as a Certified Dementia Practitioner Trainer through the National Council of Certified Dementia Practitioner, as well as an Ageless Grace Educator. |
---
Enjoy the warm sun and blue waters in the Western Caribbean and on Holland America's private island, Half Moon Cay. Alzheimer's and Dementia Friendly Cruise and Educational Symposium inspires and encourages caregivers/family members to love every moment!
---
Caregiver Respite Cruise, Dementia
Friendly and Fully Accessible!

Do not stop living because of a diagnosis…
we can help create an amazing experience!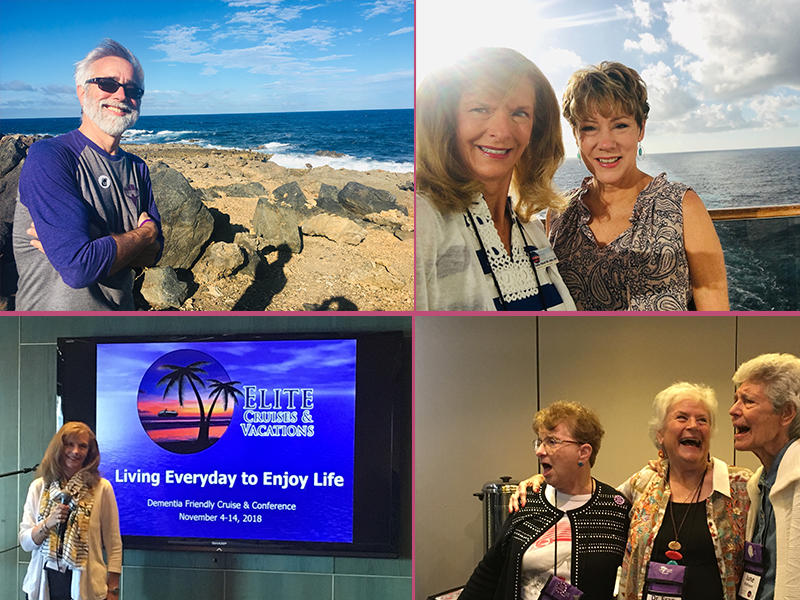 Educational Symposium with focus based on Neuroplasticity with sensory immersion
Caregiver Respite opportunities to let you, the caregiver, have some time to YOURSELF. Rest, Relax, RE-set and Rejuvenate... then have the opportunity to reconnect with your loved one.
Our unique caregiver programming facilitates the opportunity to STILL ENJOY EVER DAY THAT GOD GIVES US
The Conference Includes Daily Caregiver Respite Sessions, Relaxation, Custom Group Events, Caregiver Circles, Sr. Zumba, Interactive Education AND... a GUARANTEE of NO SNOW!
---
The MS Nieuw Statendam is the sixth ship in Holland America's history to bear the name Statendam.

Like sister-ship the Koningsdam, the Nieuw Statendam is one of the largest in the fleet and combines classic hallmarks of the cruise line with innovative venues. Guests can enjoy some of the finest dining at sea by indulging in Pacific Northwestern dishes at Pinnacle Grill, brasserie-style seafood at Sel de Mer, authentic Italian at Canaletto, or exotic Asian cuisine at Tamarind. For more relaxed meals, try al fresco dining by the pool at Dive-In or grab a slice at New York Pizza. Wine connoisseurs and novices alike can experience the art of winemaking at BLEND by Chateau Ste. Michelle. America's Test Kitchen features live onboard cooking shows and hands-on workshops where guests can learn techniques and recipes from experienced chefs. The Greenhouse Spa & Salon is the perfect spot for pampering with facials, massages, thermal pools, heated ceramic lounges, and more. Visit the Digital Workshop and learn how to edit, display, and share videos and photographs. Kids will have plenty to do onboard at Club HAL, Holland America's kids club, and fitness buffs can enjoy the sport court, jogging track, fitness center, and two swimming pools. Nightlife options abound on the Nieuw Statendam, with entertainment venues such as B.B. King's Blues Club, Lincoln Centerstage, World Stage, and the casino. Guests have an array of stateroom options to choose from, including family oceanview staterooms and signature suites. All staterooms come equipped with luxurious bedding, flat-panel TV, bath amenities from Elemis Aromapure, and premium massaging shower heads.


---
Perfect for clients and their care partners who have been diagnosed with:

Cognitive Impairment

Heart Disease

Dementia

Diabetes

MS

Alzheimer's

Parkinson's

Arthritis

CVA

Weakness

Cancer

Slow Walkers

COPD

and those that simply need a little bit of additional assistance.


Programming will include:
At Dementia Training for Life, we stand by a strict code of ethics that guides the future care and dignity of individuals with dementia. To provide the best services the following professionals are urged to attend:
RNs and geriatric care professionals will lead a dedicated cruise support team from Elite Cruises And Vacations LLC.

RNs will be available 24/7

Senior-Friendly activities and social events specifically geared to our group.

Daily Senior Zumba with Loretta and Music therapy

Daily Respite sessions for caregivers--( Adult Day Care sessions) will be included with the conference

Interactive conference topics created to "Enjoy Life" and facilitate a better life.

Daily agenda of activities to be incorporated with the daily activity schedule of Holland America Cruise Line.

Private Group Welcome cocktail party.

Group dinner seating available every evening.

Optional group shore excursions in each port escorted by a staff member. (shore excursions are at an additional cost)

Pre-cruise group hotel with Cruise Support Team staff to meet and greet you upon arrival and manage transportation to the cruise departure port. (hotel at additional cost)

Accessible accommodations and mobility assistance. All cabins can be retrofitted to be handicapped accessible.

Scooters, manual wheelchairs, and transport chairs are available for rental on a weekly basis

Available Meet and greet to the airport and available accompanied flights upon request.

Available private duty assistance from an RN or a caregiver upon request, for a minimal additional fee
---
The Perfect Spa Relaxation! Appointments Available During Daily Adult Care Sessions
---
Your Professional Cruise Team



1. Kathy Shoaf RN BSN ATP, Travel Professional, Cruise Director
Owner and CEO of Elite Cruises And Vacations LLC, Owned and operated with Sincere Passion to help people Enjoy their Lives! Certified Special Needs Travel Agency "Elite Senior Accompanied Cruises" Daughter of 84 Year Old Type 1 Diabetic Wearing an Insulin Pump.

2. Lesli Jenkins Wang, Travel and Accessibility Expert
President & CEO at Free2Go Mobility Products, Inc. President & CEO of Free2Go Mobility Products Lesli Wang is fiercely committed to developing products that enhance the lifestyle of the aging and mobility impaired, enabling them to retain their independence and - most importantly - their dignity.

3. Barbara Roberts, RN
Barbara has worked as a Registered Nurse in Eldercare Services for over 30 years and currently works near Kennebunk, Maine in Eldercare Services as a Nurse Consultant. She is the owner of Barbara Roberts Consulting, LLC and specializes in education, regulatory compliance and recertification medication competency. Barbara is a Four Star Mariner on Holland America Cruise Line and is compassionate about helping families and their loved ones.

4. Loretta Kaminsky Certified Senior Gold Zumba Instructor,
Owner and CEO of "Lou-retta's Custom Chocolates, Inc." Loretta Kaminsky at the age of 81 is enjoying the joy of sharing her love of music and movement with people of all ages. After a bout with breast cancer at the age of 37 she began a path of exploration to find a way to be remembered.

5. Robert Chick Pharmicist/ DDS
Born in Brooklyn New York, he became a Pharmacist before moving to Buffalo, New York to attend Dental School. Deciding to stay in Buffalo, he opened his dental practice in 1969. He joined the Air Force in the Air Force Dental Corp, where he was diagnosed as a Diabetic.
| | |
| --- | --- |
| | Cruise Itinerary |
---
Accessible accommodations and mobility assistance.
Sailing to the Western Caribbean... Sand, Sun, Relaxation, Peaceful Memories, and a Renewed Spirit.

Kathy Smith Shoaf RN BSN ATP

Call today to book! | 888-826-6836